Montgomery Co. officer seriously injured after traffic stop | News
ROCKVILLE, Md. (WUSA9) -- A Montgomery County police officer was seriously injured after he was hit by an allegedly drunk driver Thursday night after a traffic stop in Rockville, Md. 
The SUV first struck Officer Leotta's cruiser then hit Officer Leotta, who was standing outside of his vehicle. 
Officials said the impact was so intense that the police cruiser's door was nearly ripped off the hinges. 
Leotta suffered serious injuries and was transported to a nearby hospital. He remains in the hospital with life-threatening injuries. 
Police have charged the driver of the car, Luis Gustavo Reluzco of Olney, with DUI. Reluzco stayed on the scene after the accident. 
Leotta, an Olney native and University of Maryland graduate, has been on the force for less than five years. He normally is assigned to the 4th District station in Wheaton but was reassigned to the alcohol task force for the holiday season. 
"I believe that this is his passion. Policing. And specifically, enforcing driving under the influence laws," Montgomery County Police Captain Paul Starks said.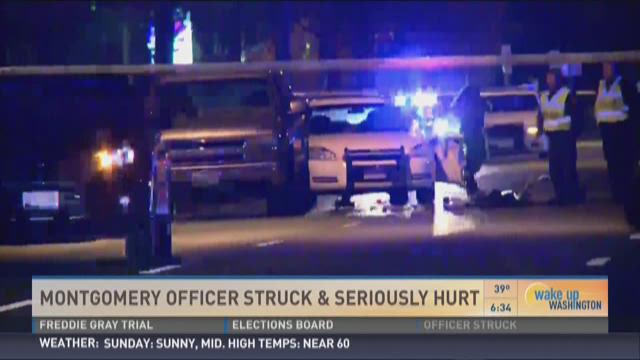 "Noah is not only a dedicated young police officer, he is a caring person who became a cop to serve the community where he grew up.  He needs everyone's prayers as he fights for his life," says Chief of Police Tom Manger.
Court records show that Reluzco, 47, pleaded guilty in 1997 to possession of marijuana and paraphernalia. He was given six months of unsupervised probation and a $500 dollar fine with all but $45 suspended.  
Police are urging drivers who see a traffic stop to pull over to a different lane and give the officer safe space. 
Anyone who witnessed this collision or has information about this collision is asked to call the Collision Reconstruction Unit at 240-773-6620.
Leotta remains in critical condition, police said. 
Like us on Facebook!